When trouble hits, as it inevitably does, the human heart instinctively cries out in prayer. (To the best of my knowledge, no other species exhibits this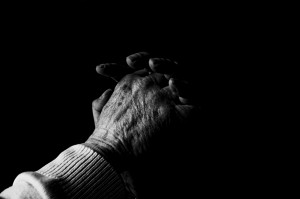 tendency.) A majority of people the world over pray regularly, even daily; remarkably, this number includes a large percentage of those who profess not to believe in God. Theologians would attribute this to our sensus divinitatis : our innate sense of the divine (cf. Romans 1:20), or our "incurable God-sickness," as Karl Barth put it memorably. We all know God exists, even if we work diligently to suppress that truth, and so we cry out in prayer to him when we need him.
But there is often a drawing back, a slinking away, once we have made our request. The psalmist writes, "I pour out before him my complaint; before him I tell my trouble" (Psalm 142:2). Complain to God—can it be so? The impertinence of troubling him thus! How dare we? Will he hear us? Will he answer, even if he does hear? Surely not, we reason. The fresh bloom of faith withers in the frost. We slip back into self-reliance. God helps those who help themselves.
In prayer we find ourselves trapped between the holiness and love of God, his transcendence and his immanence. Do we address an awesome Majesty or a tender Father? The Psalms—our God-given instructors in prayer—help us proceed, not by navigating a narrow path between two extremes, but by teaching us to embrace and address the fullness of God simpliciter.
David offers us a neat theology of prayer in Psalm 5, showing us our access to God—and what that access cost.
It begins, as prayers often do, by invoking God's presence:
Listen to my words, LORD,

consider my lament.

Hear my cry for help,

my King and my God,

for to you I pray. (vv 1-2)
Tellingly, he brings his issue to God because he feels assured that God will hear and answer him. He waits expectantly for God to respond:
In the morning, LORD, you hear my voice;

in the morning I lay my requests before you

and wait expectantly. (v 3)
Even if expressed more poetically and assuredly than our prayers, so far this feels like spiritual boilerplate. Then the prayer takes an odd turn:
For you are not a God who is pleased with wickedness;

with you, evil people are not welcome.

The arrogant cannot stand

in your presence.

You hate all who do wrong;

you destroy those who tell lies.

The bloodthirsty and deceitful you, LORD, detest. (vv 4-6)
While waiting expectantly for God to answer his prayer, David apparently feels free to launch into a diatribe against sinners. In fact, these are some of the strongest words against sinners in all of Scripture, because they teach that God hates sinners—not just the sin. What are we to do with this? This is the self-righteous bigotry Jesus condemns (cf. Luke 18:9-14). It is this sort of "us-and-them" mentality that leads to dangerous, destructive Pharisaism. We want nothing to do with it. David isn't done yet, but we're growing skeptical about how much we have to learn from him:
But I, by your great love,

can come into your house;

in reverence I bow down

toward your holy temple. (v 7)
At first glance, this makes it worse. God hates sinners but not David—David can waltz right into God's house (reverently, of course). Why, precisely? Not because David isn't a sinner; no, we all remember Bathsheba, never mind the census.
At second glance, it all starts to make sense. David says he can come into the house by God's great love. That is the key to the whole text—the gospel in miniature. David is most certainly not deceived about himself. He knows he is a sinner, the worst of all, I feel certain he would argue (cf. Psalm 51). He can boldly approach the throne of God only because it is a throne of grace (Hebrews 4:16). Even though God, being a perfectly holy God, cannot abide our sin; even though we by nature are objects of justly deserved wrath; nevertheless, God welcomes us with unfathomably open arms, invites us to call on him in prayer, even teaches us to address him as Father. What wondrous depths of mercy, grace, and love!
No, David is not describing other sinners in verses 4-6. He is describing himself. This is not an us-and-them moment. It is an us-and-Thee moment. We are all of us in this boat together, hopeless apart from the Hope of nations—Christ, our salvation. God is at once transcendently holy and immanently loving, both Majesty and Father, through Christ.
Who may call on God as Father? Who may boldly approach the throne of grace to find mercy in times of need? The one who has faith in the finished work of Christ. Even though it was faith in the promise, not the completed work, still David commends this sort of faith:
But let all who take refuge in you be glad;

let them ever sing for joy.

Spread your protection over them,

that those who love your name may rejoice in you. (v 11)
Those who take refuge in God—a metaphorical depiction of faith—it is they who possess the singing joy, the resolute gladness of those who know God will hear and answer them. For through Christ we all have "access to the Father by one Spirit" (Ephesians 2:18).
We would do well to remember the cost of this access. Ironically, it was another psalm of David, Psalm 22, taken onto Jesus' lips that best expresses the cost. Tim Keller explains,
The only time in all the gospels that Jesus Christ prays to God and doesn't call him Father is on the cross, when he says, "My God, my God, why have you forgotten me? Why have you forsaken me?" [Psalm 22:1; Matthew 27:46] Jesus lost his relationship with God the Father so that we could have a relationship with God as father. Jesus was forgotten so that we could be remembered forever—from everlasting to everlasting. Jesus Christ bore all the eternal punishment that our sins deserve. That is the cost of prayer. Jesus paid the price so God could be our father.[1]
When we pray, as David did, "But I, by your great love, can come into your house," we do so with a piercing recognition that his love was not only great, but costly. It cost him his Son, his only Son, whom he loved. That is the price of adoption; that is the cost of prayer.
[1] Prayer: Experiencing Awe and Intimacy with God (New York: Dutton, 2014): 79-80.