In winning the World Cup this year for the first time in 24 years, and a major trophy for the first time in 18, the German Football Association (DFB) reaped the harvest of a seed planted at the turn of the millennium. You see, in 2000, when an aging squad whimpered out of the European tournament in the first round, the Germans made a decision: no longer would they rely on the mercurial presence of a "golden generation."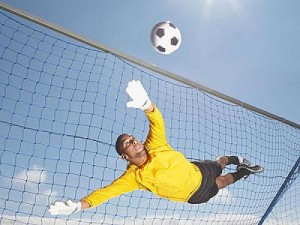 I need to pause here and explain some things to my largely American readership.[1] A golden generation refers to a serendipitous convergence of unthinkable talent according to birth year. Because professional athletes have such a small window of peak performance—especially when the biggest tournament happens only once every four years—it is not unusual to find yourself wishing you could assemble a team from several different generations in order to plump out some thin positions.
(In fact, that's precisely what Germany did in 2000, relying on members of a previous generation—the 39-year-old Lothar Matthaus, for example—because there were no younger players making the cut at that time. The experiment failed.)
However, every once in a grand while, all eleven starters—plus a bit of squad depth—are truly world class, and for a tournament or two we hail the golden generation. Spain just enjoyed almost unparalleled dominance in Europe across two European finals and a World Cup owing to their golden generation. They then relied on them at this World Cup despite the age and decline, and it didn't go so well. So Germany in 2000, which brings us back to my point.
Instead of hoping for the emergence of another golden generation, the Germans opted to try a new strategy: "talent without end."[2] The premise is simple: by putting strict standards of youth development in place throughout the country, the DFB would soon have a seemingly unlimited pool of talent from which to draw for tournaments in perpetuity. No more crossing of fingers before making a squad selection; instead, with all the efficiency and industry for which they are famous, the Germans would produce what they needed. They took matters into their own hands, and when Schürrle and Götze combined in extra time to win the World Cup, they reaped what they had sown.
Disciple-Making Deutschland-Style
We reach an odd moment now. Those who have been enjoying my first post on soccer will find themselves dismayed to see that I'm turning to the church, as I'm wont to do; those, contrarily, who hoped for another article on disciple-making (which this is) will probably not have made it this far. Inevitably, then, I've left everyone disappointed. Apologies all around. I'll do better next time.
So what does the DFB have to do with disciple-making? The answer, I believe, lies in the notion of talent without end.
The average church today does not concern itself much with leadership development. Few churches have a clear picture of what a mature, equipped disciple is, and fewer still have developed a clear strategy for producing a steady stream of them. We are not, by and large, Great Commission churches.
Instead, we have relied on our own version of the golden generation. If we get a volunteer to lead part of the children's ministry, for example, we lean heavily on her, with little or no thought to what will happen should she move on or burn out. The enduring success of the ministry depends entirely on her continued presence.
Far better to have a plan in place for to develop and train a series of potential replacements! At worst, should she continue in ministry, we will have equipped a group of men and women who are now mature leaders, able to serve in a variety of roles according to gifting and personality. As it stands now, when a vacancy arises unexpectedly, we tend to have to fill it with whatever warm body is available, and training takes place on the job, to the detriment of the ministry. Christian maturity sometimes doesn't even factor into the decision, because it is a luxury we can't afford.
Unfortunately, when it comes to vocational ministry, a similar pattern emerges. In churches large enough to support more than one full-time pastor, the senior pastor rarely focuses on training and developing his associates with an eye to possible succession. Ideally, because it takes so much time and energy to understand the values and appreciate the uniqueness of any given church, a good number of succession candidates would be in-house.[3]
To ensure I keep no one happy with my analogies, let me switch to baseball to explain. Churches today—especially those which are large and affluent—have adopted the same front-office philosophy as the Yankees: buy the very best talent available when you need it. Thus, when a pastor departs, we hire a search firm or post on a ministry job site in order to find the best on the market (within our price range), and then bring him in and slot him straight into the starting lineup. This approach will win you pennants, obviously, but there's a reason so many people hate the Yankees: it doesn't seem fair. And in the church especially this feels a bit too much like the marketplace, too little like Christ's patient approach with his emerging leaders.
Much better, I would aver, to build the best possible farm system. Your church should be filled with prospects, and you should have the very best coaches working to develop them in the lower leagues. In fact, those coaches will probably have a greater impact on the enduring fruitfulness of the ministry than any star you sign in a blockbuster deal. As much as it pains me to say it—and the pain is real and physical—this has been the commendable approach of the St. Louis Cardinals, who have won more than their fair share of pennants as well. (Mind you, they have their reward in full, whereas we Cubs fans will enjoy ours in eternity.) Really, I can think of few analogies that better capture the heart of a church-wide disciple-making ministry than the farm system. That's the idea in a nutshell.[4]
Our purpose as a church is to make disciples, to help those around us move from unbelief to equipped maturity. The equipped and mature then serve as disciple-makers themselves, reaching the lost and equipping the save, and the ministry multiplies to the glory of God. We short-circuit this process when we depend on a golden generation of volunteers or staff. As churches, we need to reclaim Christ's original emphasis, to adopt (and redeem!) the ethos of the DFB, in order to accomplish our purpose: an unbroken stream of mature and equipped Christ-followers, serving in his kingdom for his glory. Talent without end.
Some Questions to Consider Going Forward
How do you define "mature and equipped disciple"? What character qualities will this person have? What skills will they have developed?
How does your church move people from unbelief to complete maturity? Given that programs are almost wholly unsuccessful in accomplishing this, how will you create and sustain a culture of relational disciple-making at your church?
If you are actively serving in ministry—especially if you are in leadership of any sort—whom are you equipping to take your place?
If you are a pastor or staff member, who will succeed you in ministry? How are you equipping them to take your place? Does the church have a tentative succession plan in place that all understand and agree to?
[1] I realize I shouldn't use "large" and "readership" in the same sentence, but forgive me just this once.
[2] Astute footballing fans will see that my dear old England have employed a similar strategy, that of "talent without beginning." Hence the many tournaments won since 1966.
[3] I realize the New Testament provides a lot of support for the notion of "itinerant" ministry, that is, vocational pastors moving from one church to the next. This is not an either-or argument; it's a call for a genuine both-and approach, when functionally it seems we have often opted only for the itinerant approach.
[4] Second basemen goes down injured? No worries: we've got a bunch of guys producing in the minors. Small group leader steps down unexpectedly? No big deal: we've got plenty of depth at that position.