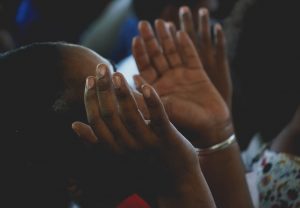 Clap your hands, all you nations; shout to God with cries of joy. 2 For the Lord Most High is awesome, the great King over all the earth. 3 He subdued nations under us, peoples under our feet. 4 He chose our inheritance for us, the pride of Jacob, whom he loved. 5 God has ascended amid shouts of joy, the Lord amid the sounding of trumpets. 6 Sing praises to God, sing praises; sing praises to our King, sing praises. 7 For God is the King of all the earth; sing to him a psalm of praise. (Psalm 47:1-7)
There is a mystery we must unravel if we are to make sense of this psalm and its implications for our lives. In verse 3, we learn God has subdued nations, and put peoples under his (and Israel's) feet. Yet the psalm opens in verse 1 with an invitation to those very nations to clap their hands and shout with joy in the midst of their conquest. What gives?
This psalm only makes sense if we believe that God is the rightful King of his creation. He is truly an awesome King (verse 2), as he alone possesses the attributes necessary to rule well: wisdom, power, knowledge, holiness, goodness, love, and the like. He reigns gloriously, and when we apprehend as much, our hearts overflow in praise (verse 6). God created us to flourish under his gracious rule, so when we submit ourselves to him, we experience the deepest joy imaginable.
God is subduing nations even now. In God's providence, Covid-19 has brought the world to its knees. He has reminded us all that he alone is God, and that placing our trust in ourselves—our bank accounts, job security, health, even our social network—is foolhardy at best.
In this moment, as Christians, we have the privilege of inviting people into the glad submission of devotion to God. When God ascends the throne of an individual's heart, even despite the "conquest" this involves, he ascends "amid shouts of joy" (verse 5). Let that truth, which we know by personal experience, embolden our witness in these subdued days.